October November December
October started out with several spooky happenings.
Here's a mysterious shot of our smoke filled living room. 
Then, I talked about our family weapons and my reaction when
I heard an intruder coming up the stairs.
In November, I was dealing with some serious post-Halloween chocolate issues.
My husband had the nerve to hide the candy–from me!
We also held The Toddler Olympics.  Dax was the clear winner.
And I reminisced about our Thanksgiving.
Evie and my homemade cranberries took a tumble down the stairs. 
Though a permanently pink carpet looked inevitable,
I discovered the magic of rubbing alcohol and baking soda.
My carpet was saved!
I also had a little blogging burnout and got some much appreciated advice!
Looking back over my December posts, there was a bit of a Grinch theme going on.
I don't think I'll encourage anyone to visit those posts just yet.
Grumpy Grateful Mom Goal:  Basking in my two final days of holiday feasting.
It's the last week!  Grab a button and link up your October, November, December posts below.   All extravaganza details can be found here.  Thank you so much to everyone who's participated.  And a big thanks to Emmy Mom for coming up with the fun idea.  The winner of the eight fabulous prizes will be announced next week!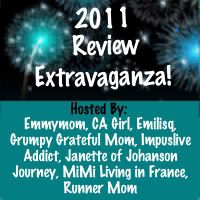 Have a happy New Year's everyone!