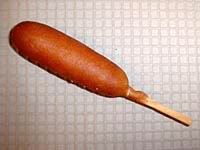 You stray from your cereal routine and give your daughter a breaded sausage for breakfast.
Like most days, you run out of time to pack her a healthy lunch for school, so you tell her to buy school lunch.
She comes home from school the same day and says, "Mom, this was the best day ever!  I got a corn dog for my breakfast and a corn dog for my lunch!"
You check the school lunch menu and, sure enough, her options were Southwest Rice Bowl or Pancake Sausage.  Was there really any question what she would choose?
You decide to stick with the theme, but switch it up a bit.  You give her a real corn dog for dinner.  OK, just kidding about the the corn dog for dinner.  We actually had McDonald's.
Grumpy Mom Goal of the Day: I think it's pretty obvious
.
Everyday Goals:  Day 6: Do something nice for someone.  Organize-anything!