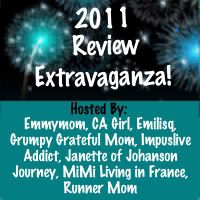 Have you heard about this??? The 2011 Review Extravaganza is something I hope you'll be a part of!
What is the 2011 Review Extravaganza?
It is your chance to write some easy posts and recap what happened throughout the year.  You can use your favorite pictures, tell your favorite stories and link back to your favorite posts.  We will be reviewing three months at a time.
This will begin Friday, December 9th.
So, Friday the 9th, you will link up with your recap about January, February and March.
Friday the 16th–link up with recap of April, May and June.
Friday the 23rd–link up with recap of July, August and September.
Friday the 30th–link up with recap of October, November and December.
Emmymom is the grand mastermind behind this event.  You can do your recap however you'd like, but you can see Emmy's example from last year by clicking here.
And now for:
My Ultimate Favorite Part!
There are fabulous mystery prizes involved — 8 of them!   A personal prize will be picked by each of our hosts for the winner. Who knows the treasures that await you!
How to win?
Every week that you link up with your review you get a point, and the more points you have, the more times your name is thrown into the hat.
For now, set your Fridays in December aside and start writing whenever you'd like.  These are great posts to do in advance if you've been feeling a little behind like me lately.
Grumpy Grateful Mom Goal of the Month:  Get all recap posts done early. 
And on a completely different note, here's a link to
THE
Most Delicious Sweet Potato Recipe Ever!